Kayahan Dede
2010 - Industrial Design Graduate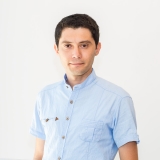 I graduated from Design Management Option, Department of Industrial Design, Faculty of Fine Arts and Design, Izmir University of Economics in 2010. Thanks to the design management option available only at my university in our country, learning not only the creativity side of the design but also the business world side of it made me very competitive in the labor market. So much so that I can think as a business administrator, a marketer and a public relations specialist and communicate with them in a technical sense, thanks to the interdisciplinary lessons we have studied and friends from different departments I met in these courses. This acquisition that I gained when I was a student at the University makes my work in my professional life very easy today. So much so that I developed myself in Design, R&D and Innovation Management thanks to the management-oriented courses and a wide range of elective courses I took.
On the other hand, it is another important issue for me to discuss that my university supports the projects created by enterprising students. Thanks to this stance of my university, with the THINK Industrial Design Students Club, which I founded as a student, we realized many design projects, especially promotional products of the University, with my friends. We not only increased the visibility of the design but also gained the opportunity to apply what we learned in theory in practice. Based on my student club experience I gained in my university, we established a student platform that brings together all students in Turkey called TETOP Industrial Design (Industrial Design Student Platform of Turkey). It has become an important community in its field in the world with nearly 2000 members represented in 24 universities.
When I graduated, in order to share these acquisitions with my colleagues, we established the professional organization ETMK (Industrial Designers Professional Organization) Izmir Branch with my fellow graduates from our university. I was the General Secretary of the Izmir Branch on a part time basis. On a full-time basis, I started project management at a defense industry company. 2 years later, I worked as a manager in various positions in Teknopark Izmir, which is one of the first techno parks in Turkey. I worked in the design and management of structures such as Technopark Innovation Center, Technology Transfer Office and Incubation center. After working as a mentor, consultant, and manager in R&D companies, I am now working as the General Manager of Izmir Bilimpark, the techno park of our University. In addition to my career, I always found it important to devote time to civil society work. I am the vice president of a technology and entrepreneurship foundation and the chairman of the alumni association of our university.
When I look back today, my university's contribution is very important in being where I am now. Thanks to what my university and department has brought me, I am very happy to serve my country and society in a job I love.