Tutku Konuk Altındal
2005 - International Relations And European Union Graduate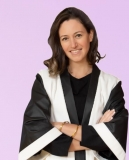 After graduating as one of the first graduates of Izmir University of Economics, Department of International Relations and EU in 2005, I completed my master's degree in European Studies at Boğaziçi University. Due to my desire to work in private sector, in 2007, I started my career at Arkas Holding's Communications Directorate. Later, I took on various roles in the 'corporate communications' departments of CMS Jant and Turcas Petrol, Turkey's best family run companies. In 2017, I transferred to MediaMarkt to gain retail experience in a global company. I worked as "Corporate Communication Manager and Co-Chair of the Sustainability Committee" at MediaMarkt until 2022. Since January 2022, I am responsible for Turkey and Greece as the "Regional Communications Manager for Southern and Eastern Europe" at AkzoNobel, the world's largest paint and coatings company. Additionally, I continue my volunteer work as a "Diversity and Inclusion Ambassador (D&I Ambassador)" within the scope of the company's global sustainability agenda.
Also, as a member of the Corporate Communicators Association (KID), LEAD Network and Sales Network, I frequently contribute to mentoring projects, and I provide Crisis Communication training within the scope of KID.
I had the opportunity to get to know 5 different sectors in 15 years and the experiences I gained enabled me to reach my current position. For this reason, I will be happy to share my past learnings with young IUE students.