Mert Kalaycı
2017 - Electrical and Electronics Engineering Graduate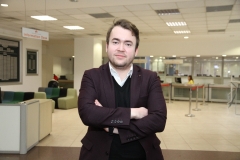 I graduated from Izmir University of Economics, Department of Electrical and Electronics Engineering with a scholarship in 2017. I continue my thesis studies with a scholarship with Izmir University of Economics Electrical and Electronics Engineering Master's Program. In 2016 during my internship, I took active roles in Innolife Mechatronic Engineering and Consultancy Company in IOT devices, smart home systems and the Smart Cradle project, which is also a Tübitak project, the patent of which belongs to the company. In 2017, I carried out software and hardware work with Izmir University of Economics Department of Genetics and Bioengineering, for the Controlled Plant Growth Cabinet Production, which is a Scientific Research Project, Ovarian cancer diagnostic kit (Patent) and DNA Sensor Development of Polymeric Nanomaterials (3001) and also carried out software, hardware and system design work in Smart Garden Home, Smart Garden Mega Production Facility projects under the management of Prof. Murat AŞKAR, and uLed project. I have Tübitak 2209-A support for My Hobby Garden project.
With my mega production facilities design Smart Garden, I ranked second at the 6th Young Brains New Ideas Project Market and Graduation Projects Joint Exhibition on May 26, 2017 in the category of Industry (I was invited as a jury to the same event in 2019); ranked third at Izmir Commodity Exchange's Agriculture Rises With Youngsters Project Competition in 2018, and also ranked third in the Category of Information-Automation-Software Technologies in Antalya OSB R&D and Innovation Project Market. I was entitled to be supported with a grant of 150,000 TL in the 2nd Period of TUBITAK 1512 Techno-entrepreneurship Capital Support Program 2017 Call with the application I made through the ODTU Teknokent intermediary institution. I founded UPTECHLABS Information and Electronic Technologies Industry and Trade Limited Company in partnership with Prof. Murat AŞKAR in January 2018.
My company has its headquarters in Izmir Bilimpark and a branch in ODTU Teknokent. In June 2019, I strengthened my company's infrastructure by investing with a valuation of 2 million. In November of the same year, with my project "Smart Garden Facility: Aeroponic-Hydroponic Plant Production Facilities developed with Industry 4.0 and LED Technology", I have established a New Generation Plant Production Facility with a funding of 521,890 TL from the TÜBİTAK 1507 Program. In 2021, I strengthened my company infrastructure by taking 2 large investments. I increased the current value of my firm to 19.6 million by commercializing my business models. I made it to the finals across Turkey in the TTGV Success Story Awards of the last 5 years. I ranked third in the TET Project market, second in the İşbank Agricultural entrepreneurship competition, and first in the competition organized by IZTB. I continue my R&D activities in my company where I am the founding partner and manager.